Fauna in Bandhavgarh
The Bandhavgarh National Park, a former game reserve of the Maharaja of Rewa has emerged as a popular hotspot for tourists who love to see the wildlife in their natural surroundings. The high density of tigers is one of the major reasons for the popularity of this park. The Bandhavgarh National Park has nearly 60 tigers in the 450 sq. km. area. Moreover, it is the only place where white tigers were supposed to reside. The last known white tiger 'Mohan' was captured by Maharaja Martand Singh in 1951 and is on display at the museum. Apart from tigers, there are several other animals, birds, and reptiles that form an integral part of the fauna of Bandhavgarh National Park. These include:
Mammals at Bandhavgarh
Though the Royal Bengal tiger (Panthera tigristigris) is the main attraction at the wildlife park, there are 22 other species of mammals that are also found here. These include rarely sighted animals like leopards and sloth bears. Apart from these elusive animals, one can easily spot mammalian species like sambar, nilgai, spotted deer or chital, striped hyena, common langur, jungle cats, red-faced monkey, Bengal fox, gaur or Indian bison, wild boar, grey mongoose, bandicoot rat, four-horned antelope or chausingha, Asiatic jackal, chinkara, elephants, Indian wolf, barking deer or muntjac, Indian gazelle or chinkara, wild dog or dhole, ratel, rhesus monkey, jackal, porcupines etc.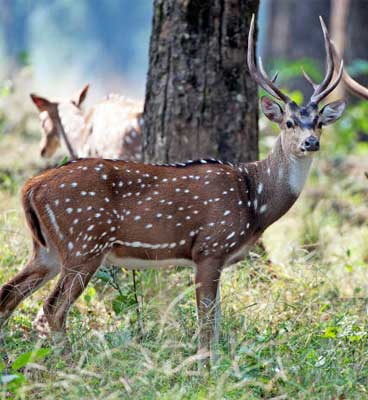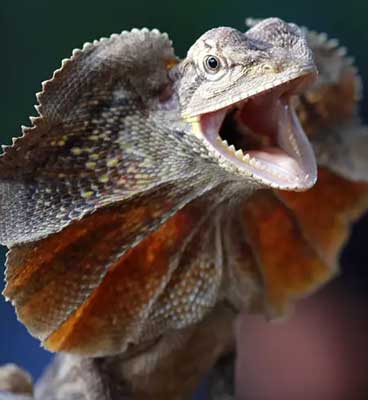 Reptiles at Bandhavgarh
The region of Bandhavgarh National Park also boasts of several reptilian species. These include several lizard varieties including Varanus, as well as other reptiles including a flap-shell turtle, python, Russell's viper, common Indian krait, rat snake, Indian cobra, fat-tailed gecko, common skink, common Indian monitor, common garden lizard, northern house gecko, common green whip snake, buff striped keelback, common wolf snake, forest calotes etc.
Birds at Bandhavgarh
Thanks to abundance in vegetation and conducive atmosphere, avian life is rich in the region. It is said that Bandhavgarh National Park is home to around 250 species of birds. The most common ones that can be spotted in the park include lesser whistling teal, great egret, little grebe, white-eyed buzzard, black vulture, dove, common kingfisher, red jungle fowl, Egyptian vulture, crested serpent eagle, stork, black kite, common peafowl, parakeet, Indian roller, peacock, changeable hawk-eagle. Some unique birds found in the Bandhavgarh National Park include green-headed barbet, common myna, orange-headed thrush, plum-headed parakeet, rock pigeon, brown-headed barbet, cattle egret, coppersmith barbet, little egret, Alexandrine parakeet, Indian grey hornbill, house crow, black drongo, carrion crow, pond heron, oriental magpie robin, Indian robin, black-winged stilt, Eurasian collared dove, common snipe, Indian peafowl, red-wattled lapwing, greater coucal, large-billed crow, lesser adjutant stork, hoopoe, oriental white eye, sirkeer malkoha, spotted dove, olive-backed pipit, white-browed fantail flycatcher, rufous treepie, yellow-crowned woodpecker, white-throated kingfisher, black stork, red-rumped swallow, red-vented bulbul, Asian green bee-eater, long-billed vulture, greater racket-tailed drongo, brown fish owl, chestnut-shouldered petronia, grey-capped pygmy woodpecker, black redstart, brahminy starling, yellow-footed green pigeon, Malabar pied hornbill, common kestrel, Asian duck, white-throated fantail flycatcher, rufous woodpecker, crested hawk eagle, sapphire flycatcher, oriental turtle dove, white-rumped vulture, house sparrow, golden oriole, black-rumpedflameack woodpecker, rose-ringed parakeet, black ibis, giant leafbird, purple sunbird, little cormorant, common tailorbird, white-tailed swallow, jungle babbler, common sandpiper, sarus cranes, etc.
Insects at Bandhavgarh
The Bandhavgarh National Park boasts of a massive 80 species of butterflies in the region which can be observed from lateJune to early July and September to late November. Different butterfly species belonging to various groups can be spotted here. These include common rose, crimson rose, common Mormon, lime yellow butterfly, common jezebel, common grass yellow, zebra blue, common emigrant, common grass yellow, pale grass blue, common Silverline, striped tiger, plum juay, plain tiger, common evening brown, common crow, angled castor, common crow, lemon pansy, peacock pansy, common leopard, baronet, blue oak leaf, common sailor etc. are some species of butterflies that can be spotted in open woodland or weed grasslands.
Despite the abundance of a variety of wildlife, spotting it for tourists is not easy. However, since trained naturalists have years of experience behind them, having them as your guide during your safari can increase your chance of spotting them. It is therefore recommended to hire naturalist guides on your safari to have a wholesome experience of enjoying the fauna of the region.