Jeep Safari Tips for Bandhavgarh
The natural beauty of the Bandhavgarh National Park is best explored through a jeep safari. The safari is available in two slots: morning and afternoon. However, the timings for these safaris vary with the season. It is therefore important to know the timing for the safari beforehand so that you are well prepared to be amazed by the sights and sounds. To enjoy your safari at Bandhavgarh National Park, you should follow these tips:
1. A limited number of jeeps are allowed to enter the various zones of the Bandhavgarh National Park at a time. Thus, if you wish to enjoy the safari here, you need to book your park ticket in advance. Ideally, it is recommended to book your tickets 120 days in advance.
2. Since the park is not open throughout the year, you should plan your trip accordingly. Additionally, separate permits are required for different zones. Thus, you should find out the best zone and book forest entry permit for the same in advance.
3. Booking for safari can be done online. However, it is important to carry the same identity card used for permit booking while entering the forest.
4. Since there is no guarantee that you will be able to spot the tiger in a single safari, it is usually recommended to book more than one safari to increase your chances of tiger spotting.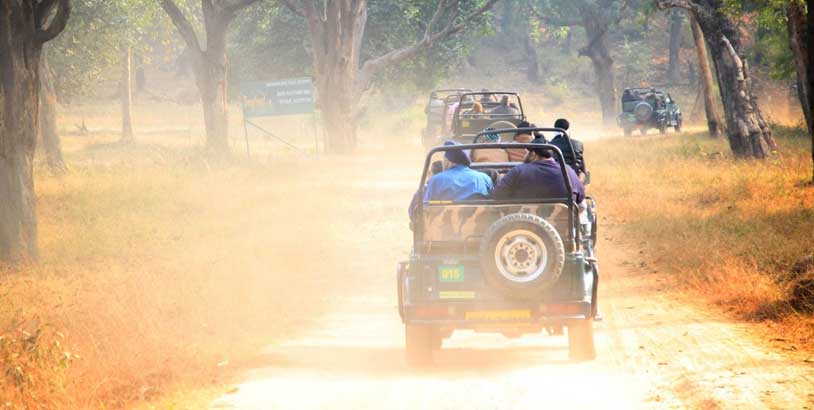 5. The temperatures during summer can reach up to 40℃. to prevent dehydration, you are recommended to carry water with you during safari. Additionally, you should also wear sunscreen, cap or hat, and use sunglasses to prevent getting a heatstroke.
6. During winters, the safari starts around 6-6.30 AM.It can be very cold this early in the morning. Moreover, since the temperature in forest is relatively lower than that in the city, you should carry woolens to keep yourself warm.
7. While taking the jungle safari, you are required to follow the decorum of the forest. Wearing bright colored clothes is not recommended as they can attract unwanted attention from wildlife. Usually, colors like brown, pale green, grey, etc. are recommended as they camouflage with the colors of the jungle.
8. Disturbing the wildlife by creating unnecessary noise and playing loud music is also not recommended.
9. Spotting animals that are far away from your jeep is easier with binoculars. Therefore, do not forget to carry binoculars and a good camera to observe and keep a memory of the wonderful safari moments.
10. Having a naturalist or guide with you during the safari makes for a better experience. Since the guides have tremendous experience, they can easily spot the elusive animals and birds of the region.
11. Riding in the forest can be a dusty affair, therefore having a scarf that can cover your head and face is recommended.
12. If you have any allergies or require any medication, you should carry the same in your handbag while going for the safari.
With these tips, you can easily have a splendid time during the safari. Hopefully, with some luck by your side, you might even be able to spot some tigers.