Jabalpur
Jabalpur is one of the India's largest cities is as important as it was in ancient era. Jabalpur is the second most crowded district in Madhya Pradesh. It is also named as Jabalpur Sanskardhani and its ancient name was Jubbulpore.
The game like snookers and billiards are invented here in Jabalpur. The surroundings are beautiful and worth visiting. All in all Jabalpur fulfills all dreams of travelers that they crave for. Total 743 km distance lies between Jabalpur and Rajasthan and 5h 3m drive. Jabalpur is legendary for its charming white marble rock creations at Bhedaghat on the banks of the river Narmada.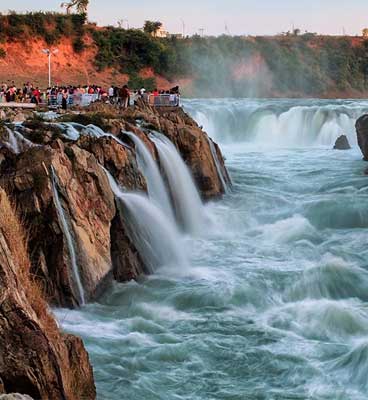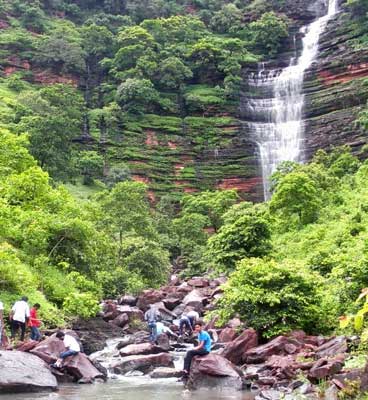 The major tourist attractions are drooling worthy such as Dhuandhar Falls, Bhedaghat and Chausat Yogini Temple along with the festival of Navratri and Dusshera. Jabalpur stands as one of the hundred Indian cities which have been emerged profoundly as a smart city under Smart Cities Mission.
Captivated Places to Visit in Jabalpur
Jabalpur is sure to enrich your soul with its worth view of the diverse range of captivated stuffs that attract most. It offers many those veritable places and perfect for holidaymaker. There is something for all which serves you best. You are fully assured with its beautiful architecture and included all holidaying factors for all age group. Embracing the beauty of the historical and commercial area sums up the travel worthy element. The few of the notorious places are the must have for the Jabalpur visitors so sip in some of the besties like Dhuandhar Falls, Marble Rocks and more.
Dhuandhar Falls, Jabalpur
The city nearby one of the places is Dhuandhar Falls, plummeting delightfully from a height of 98 feet. The peculiar view of the waterfalls from the wooden structured rock is awestruck and enriching. Full year you can have the worth appearance of this beauty without compromise. The wonderful sunset setting is very drool worthy and green spaces for the picnic lover and boat rider.
Location: Bhedaghat, Jabalpur
Active Time: 6 am to 8 pm
Entry Fee: Free (INR 100 per person for boating)
Balancing Rock, Jabalpur
Here comes wonder of nature, the Balancing Rock in Jabalpur are in reality a consequence of tough volcanic rocks. The layers of the two huge rocks are perfect backdrop and the hint of upper rock on the lower rock is quite impressive. The bizarre look is show stealer and the first choice for visitors to gaze at. The height of 6.5 on the Richter Scale is making a statement of the place.
Location: Near Madan Mahal Fort, Jabalpur
Active Time: Open all day
Entry Fee: Free
Marble Rocks, Jabalpur
Marble Rock is one of thing you will adore in Jabalpur and its beauty is impeccable. The full length of the100 feet and these mountains appearance are bit vary to each other. The different shades of the marble textured mountains like light blue, black and green store all the gorgeousness. Soak some enriching moments of striking views here for the wholesome feel with sunset or on a full moon night.
Location: Bhedaghat, Jabalpur
Active Time: Open all day
Entry Fee: Free (Boating charges applicable)
Climate and Topography of Jabalpur
The structure is entirely rocky hills all around Jabalpur and the extract of mineral deposits. The climate of Jabalpur is moist subtropical which is having temperature up to 47°C in summer while in winter it goes down to 8°C. Sightseeing is bit struggling in summer and monsoon is also quite good time around in terms of good atmosphere. The most prominent time to cover the city is from October to March. The natural beauty organically extracted best during this time of the year.
Mode of Commuting
By Air: There are flight services such as Air India & SpiceJet in the Jalbalpur airport which is also known as Dumna Airport. The best mode of commuting and the easiest way to reach there.
By Road:Jabalpur road connectivity is easiest and take you to the Varanasi, Nagpur, Bhopal, Jaipur, Raipur, Allahabad, Hyderabad, Bilaspur and Bangalore. Many roads are now opened to four-lane highways. Bus service is available to cities in Madhya Pradesh, Maharashtra and Chhattisgarh, with straight service to Indore, Nagpur, Bhopal, Varanasi, Raipur, Amravati, Chandrapur and Allahabad.
By Rail: Jabalpur Junction railway station, headquarters of the West Central Railway, has the direct connectivity to Mumbai, New Delhi, Chennai, Kolkata, Ahmedabad etc.